To be frank, I see practically everything, especially food, through a decisively Italian-American, North Jersey lens. So to me, a "red sauce joint" is an inherently East Coast experience.
For "Top Chef" alum Chef Jackson Kalb, though, he's looking to subvert that form, turning the realm of Italian-American cuisine on its head and injecting some humor and levity into the medium.
Salon Food spoke with Kalb about his brand new restaurant Jemma, the menu itself, his approach and ethos towards food and cooking at large, his time on "Top Chef" and what might on the horizon going forward.
The following interview has been lightly edited for clarity and length.
For those who are unfamiliar, what were you primarily working on between filming Top Chef and now opening Jemma?
Jemma is our fourth store. I began cooking professionally at age thirteen at 2-Michelin-starred Melisse. Between high school and opening our first tiny restaurant, Jame in El Segundo in 2018, I also worked at 3-Michelin-starred Joel Robuchon in Las Vegas and Alinea, as well as Union Square Cafe. We opened our second store, Ospi in the middle of the shitstorm in 2020 because we signed our lease in 2019. In March, we could give investors back 30 cents on the dollar or go for it. It was incredibly painful, but somehow my wife, Melissa, and I made it work . . . and we are so glad we did.
Top Chef called me in 2021. After the show aired, we decided to take a stab at a seafood-focused Jemma di Mare in Brentwood. It was supposed to be a spinoff of Jemma Hollywood, but as you know things rarely work out the way you think we will. So, we opened Jemma di Mare before Jemma.
Now, along with our newborn, Kobe, my hands are quite full these days, but I cannot stress enough how excellent my team is. Without them, almost none of this would be possible. I am extremely grateful for them every day. While I am still in charge of 95% or more of the food development and almost all of the high-level decisions, I rely on them to maintain high levels of excellence at all times. And believe me when I say they excel at what they do.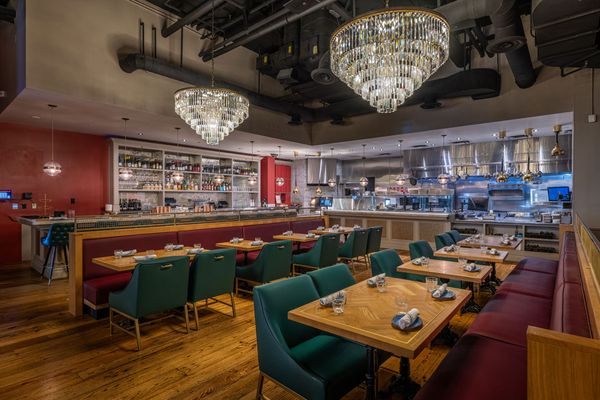 Jemma Hollywood Restaurant Interior (Photo by Wonho Frank Lee)
What led to your developing and opening Jemma? I could be mistaken, but I don't recall your making too many Italian/Italian-American-inspired dishes during your Top Chef tenure?
Top Chef was a very interesting experience. Almost all of my decisions were made completely based on gut instinct. I had COVID right before filming, so I did the entire show without a sense of smell or taste. In restaurants, I think people are looking for a sense of comfort and familiarity. In my opinion, this is the foundation of a successful restaurant.
While I enjoy dining at restaurants that push the envelope of what a dining experience can be, I don't think it makes for a successful business model. On the other hand, Top Chef is all about taking calculated risks and creating something exciting for judges who have seen twenty years of some of the highest-caliber chefs in the country. What translates in business does not translate to TV judges. So, I relied mostly on my creative background as a chef, even though most of that food is not served in my restaurants.
We need your help to stay independent
Italian-American food is oftentimes seen as generally casual or not "elevated," but Jemma is marketed as "upscale casual." How does this classification impact the menu, the recipe development and the ingredients used?
My Michelin background is a part of my identity and you can't take that away from me. While the food may appear simple on the surface at Jemma, we work diligently to procure high-quality ingredients and use top-tier techniques. For example, our Spicy Eggplant Parm is listed as just that. But to make it, we double-fry the eggplant in rice flour, which is a technique I picked up while learning how to make traditional French fries from scratch.
For the sauce, we manipulate the onions and carrots to a consistency that is so fine they essentially melt into the sauce. Instead of sprinkling parmesan onto the eggplant, we make it into a fondue. Instead of coating the eggplant in breadcrumbs, which inevitably turn soggy after adding tomato sauce to the dish, we take the base of a classic Italian-American dish, vongole oregenata and turn those into a version of fresh, scratch-made breadcrumbs packed with a ton of flavor.
What we're going for is the "wow" factor. The dishes are described quite simply, but if we do our job well, it is hopefully the absolute best version of that dish that you've ever had.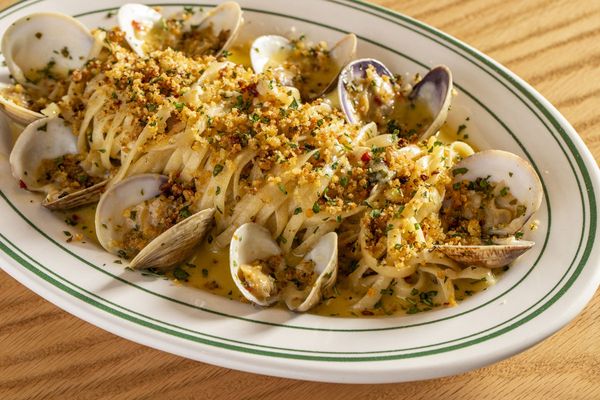 Pasta With Clams (Photo by Max Milla)
The website says "east coast Italian fare." I'm biased, but the bulk of Italian-American cuisine feels so inherently East Coast to me — but this is a restaurant based in Hollywood, interestingly enough. How would you differentiate Italian-American cuisine on the east coast vs. the west coast?
I think old-school, east-coast Italian-American food tends to be quite heavy. We lighten up a lot of that fare and we use a lot of local produce. Our kale salad, which is served in all of our stores, is made with avocado and almonds. You would find difficulty finding any of those ingredients at a traditional red sauce joint in New York. We serve this salad at all of our stores because it is the best version of kale salad that we could make, even if it's not strictly Italian.
I also like toying with the idea of high-low cuisine. How can we take something that's generally cheap, uses inexpensive ingredients and make the best possible version of it? That's exactly what we do with our Italian beef sandwich. In Chicago, they often go for a few bucks and are made with inexpensive cuts of beef and a special, but very inexpensive and sometimes pre-frozen bread. We use prime rib from pastured Angus beef from Texas, shave it thin to order and pile it high on a house-made bread that I believe has the perfect amount of chew while still being light and airy. And because I enjoy a sense of humor in some of what we do, we serve the entire thing on a silver platter with a fresh beef jus that takes two days to make.
What is your definition of a "red sauce joint?"
A red sauce joint is a place of comfort. I grew up eating a lot of this food, and admittedly, a lot of it wasn't very good. If you come across any photos of me as an adolescent, I don't need to tell you that I overindulged quite a bit when I was younger. I like to joke that everyone who knew me back then knew I was the same weight as I currently am but half the height. Let's just say I didn't have any girlfriends for a very long time. There is something inherently comforting about that style of cuisine that brings me back to a place of joy, so I have wanted to do this concept for a very long time.
---
Want more great food writing and recipes? Subscribe to Salon Food's newsletter, The Bite.
---
Can you tell me a bit about how Jemma contrasts with Opi, Jame Enoteca and Gemma di Mare? What sets each apart?
Jemma is our take on a modern version of east-coast Italian fare. I've been working on the pizza dough for over five years. It's still a work in progress, honestly. We have a sign in the kitchen showing how old our sourdough starter is for the dough. It's currently on its 1,556th day. Jemma di Mare is also Italian-American but with a focus on seafood. Ospi is heavily focused on Southern Italy and a very specific type of pizza called romana tonda, which translates to "Roman round." The crust is paper thin and was obnoxiously hard to develop. I actually landed on a successful method accidentally by stretching the dough once and forgetting about it in the fridge. A few hours later, instead of tossing the dough, I decided to stretch it again. After letting the gluten structure relax, I was able to get the dough paper-thin, which is exactly what I was looking for.
Jame is our baby, even though it's not as prominently known as our other restaurants. It's the store that started my career as an owner and has a special place in my and Melissa's heart. That was kind of a splat of my scatter-brained creativity and is heavily focused on pasta. When I was first running it, the menu changed weekly or a few times a week.
We couldn't raise any money for that store, but I was absolutely determined to make something happen. After eleven months of getting exactly zero dollars and over four hundred "no's" from potential investors, I was completely beaten down and broken. A month later, a few people each put in a few thousand dollars and we opened with whatever was existing in an old BBQ and meatloaf quick-service restaurant in possibly the worst location of a rundown strip mall in El Segundo. Almost everything was broken. If you want to talk about being scrappy, I can wax poetic endlessly on the first year of opening that restaurant. I'm actually writing a children's book about persistence and perseverance and am basing it on Jame's opening. I also love that nobody knows how to pronounce it. It is a combination of "JA" for Jackson and "ME" for Melissa.
I think naming a restaurant after yourself is kind of arrogant and it started with a different name, but two weeks after we opened, a restaurant in a different California city threatened legal action if we didn't change our name. We honestly thought it was a joke and didn't listen. They sent in a lawyer to hand-deliver us a cease and desist. If we had to pay our lawyers to defend ourselves, the new sign with the name change, new employee shirt and payroll in the same week, we would have closed within the first month. If you want to see a grown man cry in an uncontrollable fit of tears, rewind to the day I was given that notice. I think I chugged an entire warm bottle of white wine to "calm down."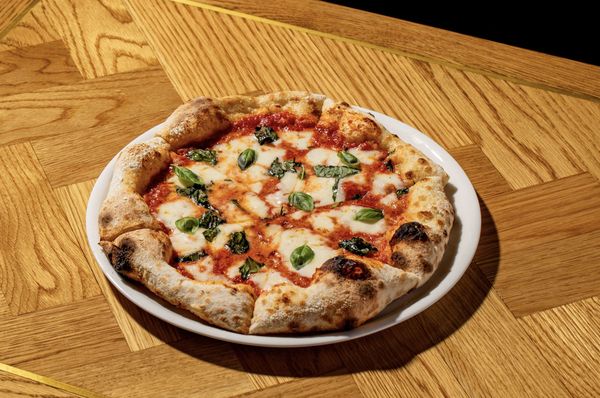 Margherita Pizza (Photo by Max Milla)
The menu is amazing! I love that the crispy provolone is served with vodka sauce, that there's caciocavallo cheese on the garlic bread (with a ranch dip!), the spicy eggplant parm, "caci-au poivre," multiple uses of lambrusco and so much more. There's a casual, fun aspect and almost a "fusion" element that unites the menu. Talk to me a bit about the process behind developing it — and what's to come next?
As I mentioned, I like to add a bit of humor to the menu. If you're laughing with me, that's perfect. If you're laughing at me, then I've done a poor job of marketing myself. What I want you to walk away with is the thought, "This is the best version of XX I've ever had," and not, "How am I supposed to eat this?" My friend recently came in to eat and said the garlic bread reminded him of the best version of Domino's garlic bread he's ever had. It made me giddy with joy. We make the focaccia over a 48-hour fermentation with a starter and use a technique I learned at Alinea to emulsify garlic confit into an oil so it can slather the bread in a light, garlicky essence rather than using a bunch of harsh minced garlic. Our ranch is homemade with fresh dill and buttermilk. We even make a seasoning blend in-house to season the blend of imported and local cheeses.
If I'm going to spend my life in this grueling industry, what's the point if I take myself too seriously? Maybe I won't win a James Beard award with that attitude, but I'm hoping I can at least be considered as a chef who can compete at that level. As for what's next, we have another restaurant in the works in Montecito next year. I've been pining for a restaurant there for three years, so I'm extremely excited about this one! And because I'm bored and have nothing to do these days, we're probably doing a pop-up with Caruso in the Palisades next month and possibly a fried chicken restaurant somewhere in Los Angeles before Montecito opens. But you didn't hear any of that from me!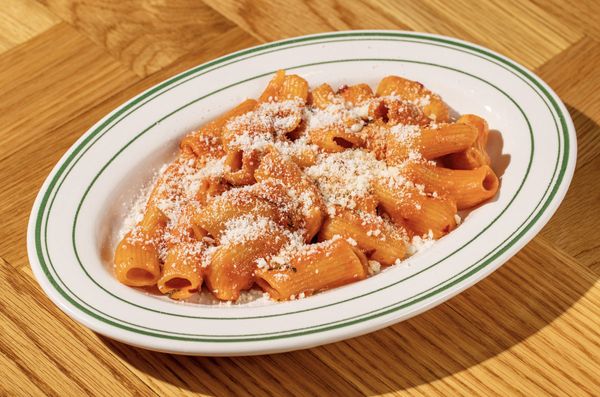 Spicy Rigatoni (Photo by Max Milla)
Is there a clear-cut most popular or best-selling dish on the menu currently? Or conversely, is there a dish you're especially fond of?
We don't have a best-seller yet as we've only been open for a week, but I am in love with all of the pizzas, the Italian Beef and the veal parmigiana. We receive whole racks of pasture-raised (meaning very well-treated) veal and leave about an inch of meat on the bone. We then braise that whole and separately pound out the rib loin paper-thin. On the plate, you get a traditional thin and crispy chop and this surprise giant bone that looks like it is traditionally fried. When you slice into it, it's so tender you can almost eat it with a spoon.
Would you compete on Top Chef again, if asked?
I would be open to competing on Top Chef again. I'm very competitive and I especially don't like the circumstances with how I left. My life is very different now and it would be very hard to leave baby Kobe and my wife for eight weeks again, but I want to either win or go out on the basis of my cooking rather than my sh**ty, anxious front-of-house (lack of) skills.
In another interview, you mentioned that Jemma will have spaghetti and meatballs — but I don't see it on the menu! I'd be so fascinated to see your iteration of the iconic classic. Perhaps it'll be added sometime down the road?
Angel hair and meatballs will be on the menu very soon! The second we opened, my first "Oh, sh*t" moment was realizing I forgot to add the meatballs to the angel hair.
If you were to pinpoint a particularly unique or "special" technique in one of the components or recipes of an item currently on the menu, is there any specific dish that stands out for you?
We use quite a few modern techniques in my restaurants and it all comes from my enthusiasm and never-ending hunger for knowledge, combined with my Michelin training. I've already mentioned a few of the techniques above.
I got extremely into cocktail development during the pandemic when we planned on expanding Jame into a full-service bar. The restaurant had previously only had beer and wine. I took a chef's approach to the cocktails and to date have developed all of the cocktails in all of our restaurants.
My favorite is the sea foam on top of our basil margarita at both Jemma di Mare and Jemma. We make a salty foam with lime juice and a hydrocolloid and use an actual aquarium air stone with a pump to get the texture as light as air. Then we scoop that in a huge mound on top of the margarita. It's much more interesting than a salted rim.