Maybe the subpar box office performance for "The Marvels," to echo Thanos' high opinion of himself, was inevitable. It is a sequel to a movie that came out not just in the previous decade, but in an altogether different era for the Marvel Cinematic Universe.
"Captain Marvel," which represents Brie Larson's MCU debut as Carol Danvers, grossed $153.4 million over its opening weekend in 2019. It would eventually top $1 billion in worldwide box office sales. This was to be expected at a time when even middling MCU efforts could easily clear $57 million in the first few days of their release, as "Ant-Man" did months before "Captain Marvel" jetted into theaters.
Four years later, "The Marvels" has the lowest opening weekend in the MCU's history, with its $47 million domestic take underperforming even readjusted projections. It was originally predicted to take in $75 to 80 million over its premiere weekend, but that bar was lowered to expect a range between $60 million and $65 million.
In the days following industry experts weighed in with theories as to why it flopped. The SAG-AFTRA strike barred the cast from promoting the movie until literally a day before it came out. Some bomb sniffers confidently cited superhero fatigue, a term that's been bandied about for years. A stronger hypothesis is that the anemic box office opener for "The Marvels" is the inevitable result of brand overextension. (I've dug into this in previous stories.) Marvel theatricals are no longer especially distinct, quality-wise, from its TV series. Many of the MCU's latest shows don't qualify as must-see material. ("Ms. Marvel" which introduced the always-enjoyable Iman Vellani's Kamala Khan, is an exception, and 2021's "WandaVision," in which Teyonah Parris' Monica Rambeau co-stars, received near-universal critical acclaim.)
Still, there's more accuracy in those than the right's eternally disprovable brays of "go woke, go broke," insisting that its low returns as a result of casting three women, two of them women of color, as leads in a male-skewing genre.
That doesn't explain how "Spider-Man: Across the Spider-Verse," whose main heroes are an Afro-Latino boy and a teenage white girl, raked in just under $120.7 million on its opening weekend. "Across the Spider-Verse" went on to earn $690.5 million worldwide and is outpacing "Guardians of the Galaxy: Vol. 3" in Box Office Mojo's year-to-date domestic totals (at $381.3 million to Star-Lord's $359 million). So: not exactly broke.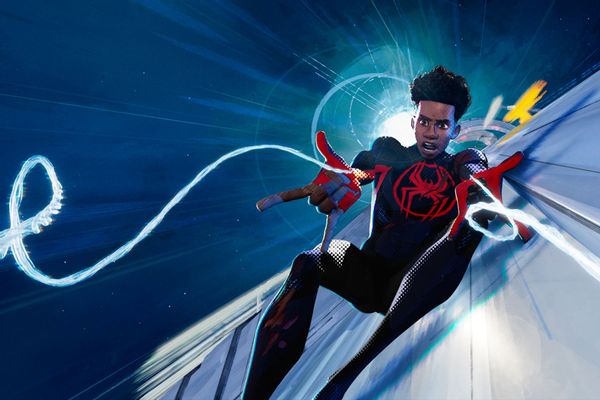 Spider-Man: Across the Spider-Verse (Sony Pictures)Minus the far-right's troll grunting, "The Marvels" was likely kneecapped by some combination of all these things along with a less-discussed factor that's likely to become more obvious as future releases experience diminishing returns.
Marvel hasn't figured out how to pass the torch to the next generation of superheroes and fans. Neither has DC; witness the empty reception for "Blue Beetle."
Marvel is famous for planning its movie releases years into the future, but in terms of understanding the audience's appetite after the original "Avengers" saga ended, it is in uncharted territory. Maybe one could see that in the abysmal showing for "Ant-Man and the Wasp: Quantumania" earlier this year; that movie was also not worth the price of a movie theater ticket. The struggles "The Marvels" is enduring, though, makes is especially apparent.
For a decade and a half, the MCU's movies have worked like TV lineups. "Captain Marvel" flew higher, further and faster in 2019 aided by the momentum of 2018's "Avengers: Infinity War." which previewed her impending arrival in a post-credits sequence.
Hollywood has long operated under the assumption that geek culture is overwhelmingly male...and your fathers and grandfathers are still the main audience for these movies.
But "The Marvels" benefitted from no such launchpad. "Quantumania" didn't generate excitement for it, and "WandaVision" debuted nearly three years ago. "Ms. Marvel," despite being one of the franchise's best-reviewed TV titles, was the least-watched Disney+ premiere in 2022 based on overall audience.
The imbalanced gender skew of these movies may be part of the problem although, again, it doesn't tell the whole story. A 2019 CBR.com article found that over the decade leading up to "Captain Marvel," her studio's superpowered women received around 10% of screen time compared to their male counterparts. And yet, as 2021 data analyzed by business intelligence company Morning Consult shows, Marvel's female fanbase adds up to 47%, meaning women aren't significantly outnumbered by male MCU fans (53%).
Kathryn Newton as Cassandra "Cassie" Lang and Paul Rudd as Scott Lang/Ant-Man in "Ant-Man and the Wasp: Quantumania" (Photo by Jay Maidment/Marvel Studios)Hollywood has long operated under the assumption that geek culture is overwhelmingly male and content with a limited breadth of stories, many of them either starring or related to Batman or Superman. It's easy to understand why that is — they're classic, reliable figures. Your father's and grandfather's guys.
And your fathers and grandfathers are still the main audience for these movies. Consider the demographic breakdown for "The Marvels" opening weekend, as reported in the Wrap: the audience skewed 61% male and 39% female. (Where were the ladies? Probably home on the couch.)
The age breakdown of "The Marvels" audience, as reported in Deadline's post-mortem, is more telling. The trade says 45% of the movie's opening weekend audience were men over 25, with 22% made up of women over 25.
Unknown is how many people in the older audience that showed up in force for most of the "Avengers" saga know who Ms. Marvel and Monica Rambeau are. It's not as if they needed to watch any TV shows as a prerequisite to enjoying Marvel's previous blockbusters. So, for example, when Kamala showed up to propose a partnership with Hailee Steinfeld's Kate Bishop at the end of "The Marvels," the anticipatory "oooh" of that tease only sparks if you recognized Steinfeld's archer from "Hawkeye," Jeremy Renner's Disney+ vehicle.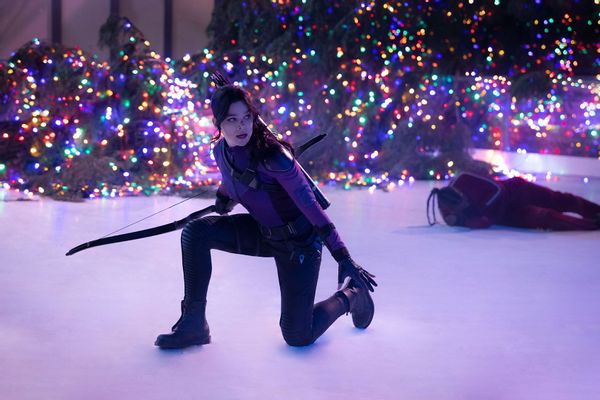 Hailee Steinfeld as Kate Bishop in "Hawkeye" (Photo by Chuck Zlotnick/Marvel Studios)Marvel plugging Harry Styles into the end of "Eternals" makes more sense; most of the audience might not know who Starfox is but most Olds recognizes Styles as a Millennial foxy star who the children are here for, and who is here for the children.
We need your help to stay independent
Here is where we could dive into the argument that audience size doesn't often correlate with quality – and in the view of many critics, including this one, "The Marvels" is a lot of fun and worth seeing. Opinion is subjective, so let's look at another pertinent data point instead. When "Ms. Marvel" debuted last year, technology analytics company Samba TV found it to be the most popular MCU series to date (in 2022) among viewers between the ages of 20 and 24, and in Black, Hispanic and Asian households.
Then consider that men under 25 made up only 20% of the audience for "The Marvels," with women under 25 comprising 14% of the bodies in theater seats, per Deadline. As to why Gen Z didn't show up to theaters in force last weekend, there could be a few answers. For one, most younger consumers prefer to stream their screen content on personal devices, whether that means their phones, tablets, computers or TVs. These days they're also as likely to consume them in bites on TikTok as they are to sit in front of a TV screen.
The core audience to whom Marvel and DC aggressively catered over the last 20 years probably hasn't spent time much with these women.
That Morning Consult poll gives additional context, in that it found that while Gen Z may be the second most engaged Marvel fans after Millennials, they are far fewer of them. Its Gen Z poll respondents topped out at 9% compared to Millennials (40 %), Boomers (26%) and Gen Xers (25%). No shock there. Older generations have been worshipping at Marvel's altar to varying degrees of passion since childhood. Spider-Man, The Incredible Hulk and Thor were introduced in its comics in 1962, followed by Tony Stark and Iron Man in 1963. Spidey and The Hulk also starred in TV shows in the '70s and '80s.
Captain Marvel is only a few years younger than the other Avengers in concrete chronological terms, in that Carol Danvers was introduced in 1968. (All the Avengers are children next to DC's Superman, a character that's been flying since 1938, with DC introducing Batman in 1939 and Wonder Woman in 1941.)
Kamala Khan is only 10, first appearing in 2013. Monica Rambeau, the second sister in "The Marvels," is middle-aged by comparison having debuted in 1982. In effect, the core audience to whom Marvel and DC aggressively catered over the last 20 years probably hasn't spent time much with these women.
Moviegoers between the ages of 25-34 made up the largest share of the audience for "The Marvels" at 33%, according to Deadline. And while most of that audience is white, 58% of the movie's opening weekend audience identifies as Latino or Hispanic, Black or Asian.
---
Want a daily wrap-up of all the news and commentary Salon has to offer? Subscribe to our morning newsletter, Crash Course.
---
People are indeed tired of being served the same kinds of tights-and-flights stories several times a year – which "The Marvels" is not, to be clear – but that doesn't mean we won't eventually watch them. At home.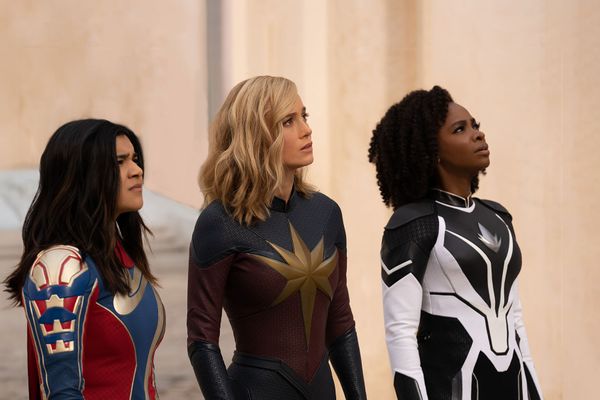 Iman Vellani as Ms. Marvel/Kamala Khan, Brie Larson as Captain Marvel/Carol Danvers, and Teyonah Parris as Captain Monica Rambeau in "The Marvels" (Laura Radford/Marvel)Based on numbers beyond box office totals, it would be foolhardy to write off "The Marvels" entirely a week after its release. While it may not turn a huge profit for Marvel, word of mouth may coax more people into theaters in the coming weeks, and it's sure to find a warmer welcome in the video on demand market.
What we may be seeing is the turning point at which the studio realizes that the same gravitation pull that drew Marvel fans to theaters over the last quarter century is getting old, quite literally, and flying past filmgoers who have more in common with Kamala than Carol or even Monica.
One day "The Marvels" may be viewed as an early bet on the future whose dividends eventually paid off. But that can only come true if this genre's keepers have the patience and will to meet the next generation on its turf instead of reheating predictable battles using old tactics.
"The Marvels" is out in theaters now.